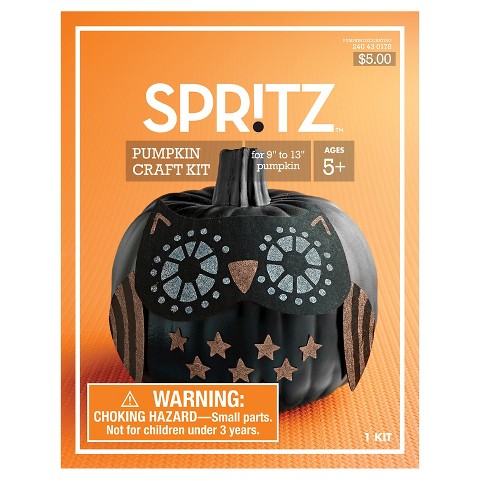 Lately I don't have time for anything it seems. I'm squeezing in time every day to get my work done so I can get the kids from school, then homework, dinner, quality time, bed time, cleaning time, …and more work from home. It's never ending right now.
So, imagine my excitement when I found these cute little pumpkin craft kits from Target.  I had already purchased the amazing, deluxe, full of multiple cutting tools and guaranteed to slice through an artery pumpkin decorating kit, with not one but TWO pumpkin scoopers…. but I wasn't upset about keeping it on a shelf until maybe next year.
Instead, to optimize quality time and reduce stress and clean up, and bandaging later, we got a few of these craft kits.
All went well, it was a beautiful day so we were able to work outside and save the kitchen floor that had just been washed by yours truly.
I'm pretty sure the paint wasn't washable, and I was flirting with disaster by letting them paint in brand new clothes…… but I was willing to take the risk. Thankfully, it worked out.
There was a kit for every imagination……
Everyone was suitably impressed with their pumpkins, and of course secretly liked their own way better than the other ones.
This lazy pumpkin decorating was fast, satisfying to all parties, and accomplished my goal of "quality time" while allowing enough time for one more activity I had been looking forward to since waking up at 6am that morning…..
Naptime. 🙂